Birthday Doll 2019
September brings the time of year when I create a simple doll to celebrate my birthday. I started her on my birthday, but with other demands, I just managed to finish her up over a month later! She is inspired by the Ethiopian Omo River Valley people who decorate their bodies with flowers for special occasions.
Many years ago a friend sent me a link to some video documenting this tradition. I was enchanted, and promptly bought a book of photographs done by . Recently I was looking at the book and decided to use it to inform this year's doll. I also shared the video and book with a small group of art friends and several came up with their own body adornment also informed by the video and photographs.
https://hubpages.com/travel/The-amazing-body-art-of-the-Ethiopian-Omo-tribes
When I had finished her, I realized that she was a "black Madonna" goddess. Many ancient cultures worshiped a madonna with dark skin. Marion Woodman, a Jungian therapist, popularized the concept of the black madonna and wrote the following in her book"Coming Home to Myself":
'The Black Madonna is larger than life itself.
Nature impregnated by spirit,
She presides over fertility, sexuality, childbirth.
She accepts her body as chalice for spirit,
Presides over the sacredness of matter,
The meeting of sex and spirit.
Rejected by the patriarchy,
Her energy has smoldered for generations.
Now she erupts in us and in the world,
Demands conscious recognition,
Demands redemption of matter.'
She certainly is a concept of woman ripe for recognition in this day and age! In many subtle ways she represents the shadow side of my personality that is emerging as I live my life alone in the now.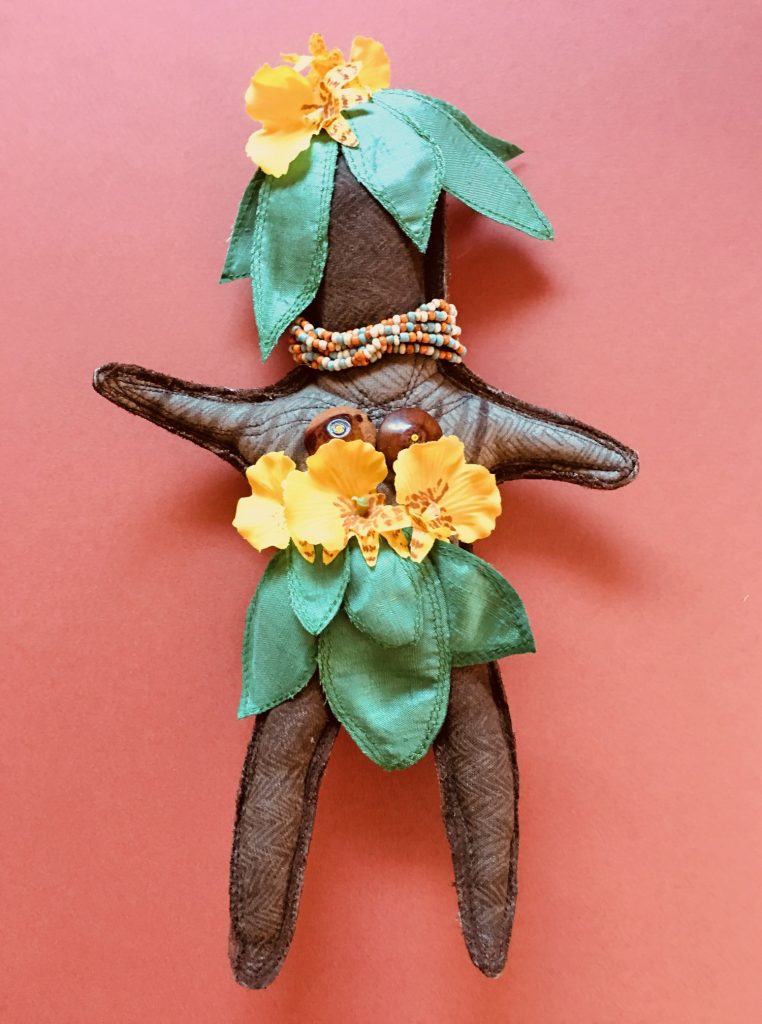 The Book By My Chair:
This is a book suggested to me by my sangha friend, David Green. He had it with him one Sunday. I saw that it was filled with book marks and notations and commented about this. He replied it was an especially down-to-earth presentation of basic Buddhist meditation and self help exercises. Sounded interesting so I ordered it from Amazon.
The reward for doing this has been very special. It is a wonderful handbook for emotional self-care. If you are floundering in this area, do check it out at your local bookstore if there is one in your community. Or spring for it. At Amazon you can get the paperback version for $10.87 If you don't find it helpful, you can always pass it on to someone you think needs it!! (HA!!! that's my little flippant joke)
A New Kind of Pickle!
I love pickles and fermented foods. Always have! When I was a kid and couldn't find anything tasty in the refrigerator, I'd settle for a finger-full of Gulden's Mustard.
So, when my friend Terry Enfield told me about pickled cherries I could hardly wait to make some. And then I found a similar type of recipe for pickled grapes and made them too! They both are delicious as a garnish for an entree plate. And of course if you happen upon a jar in the refrigerator, they are perfect for a forbidden snack.
Here's a recipe you can use for either:
1 cup apple cider vinegar
1/4 cup water
1 cup sugar
1 cinnamon stick
1/4 teaspoon cloves
1 teaspoon whole black peppercorns
1/2 – 1 teaspoon of any or all seeds in your pantry. (mustard, coriander, anise, allspice – depends on what you have.)
1/4 teaspoon (or more) red pepper flakes (depends on your taste. I like less)
1 pound of washed grapes or washed and pitted cherries
Place fruit in clean canning jar.
Add a sprig of fresh rosemary (if you have it)
Place the vinegar, water, sugar, cinnamon and the seeds and pepper flakes into a saucepan.
Bring to a boil, stirring to dissolve the sugar.
Lower heat and simmer for 5 minutes.
Pour the hot vinegar mixture (including seeds, stick etc) over the fruit.
When cool, refrigerate. Can be eaten after a day, but they taste better when they have marinated for at lease a week. Keep refrigerated.
A Final Comment
I've come to accept that I am an occasional blogger which means I don't post very often. I keep thinking "next month I'll have my act together to write up something really interesting, but my life doesn't work that way any more. I post when I have time to write something I think is worth sharing which isn't as often as I want. The life of an 80 year old person just isn't as exciting as it was 20 years earlier. Finishing my birthday doll got me started again. The next post will come your way when my muse finds something that insists that it be shared. Until then, I remain in limbo searching for the next interesting "something" I can get excited about.