For a good part of my life I have been drawn to small handmade objects. As a child I collected glass figurines and had a shelf over my bed where I kept my precious collection. When I "grew up" this interest shifted and I began collecting hand-made "fish". When my father died my sister and I split his small collection of jade and ivory which now reside in my studio along with other small objects collected over the years.
Wherever I have traveled in the world local I am drawn to museum displays of artifacts made from bone, ivory, metal, wood, stone and fiber. And my favorite travel mementos are small beads, amulets, jewelry, dolls and animal fetishes.
As I view these wonderful objects I think about their universal appeal and wonder about when, where and why they were made? How were they handled and used. I know I love to look at and touch my collection. Just having them nearby nurtures my inner creative muse.
If I can't bring objects home, I can always bring home a photograph. These photos are of objects I've encountered recently in my travels:
Small bone and ivory objects are among my favorite inspirations. I love the primitive qualities, the interesting surfaces and sensual shapes. They inspire drawings, dolls and jewelry. And if you want to make similar objects, polymer clay is the ideal medium for creating faux bone and ivory.
A simple angel figure made from carved twigs and some wooden scraps found on a larger wooden sculpture appealed to me.

I'm always fascinated by bundles and wraps. These items attached to a blanket wrap have inspired me to wrap and tie fabric and paper into beads and dolls.


That fascination with wraps goes even further with the concept of making art, putting it into boxes and then tying them up in interesting ways. This Kwakwaka box from Canada was used to store things. Often the boxes were made with a bentwood lid and could be used as an extra seat! They stored just about anything; food, furs, and valuables.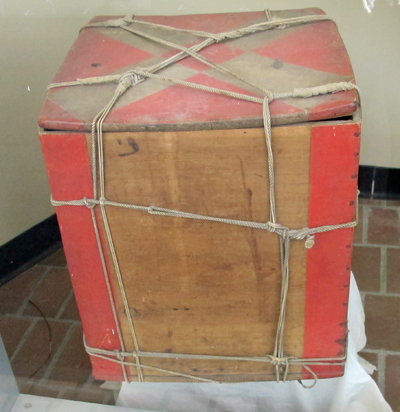 This wonderful doll is covered with found beads and milagros. The last two years I've celebrated my birthday by making a doll. I'm thinking that this year it will be a miracle doll – with milagros sewed on it to help keep my body strong.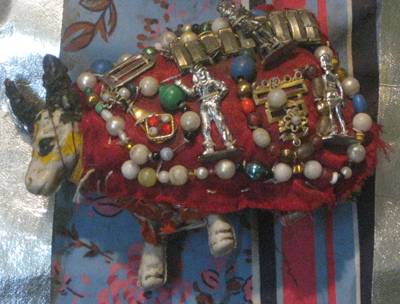 SomeBooks to Explore
If you are interested in these same kinds of folk art you may find the following books particularly interesting:
"Amulets, Sacred Charms of Power and Protection" by Shelia Paine
"Faith and Transformation, Votive Offerings and Amulets from the Alexander Girard Collection" edited by Doris Francis
"Bodyguards, Protective Amulets and Charms" by Desmond Morris
"Amulets and Talismans, Simple Techniques for Creating Meaningful Jewelry" by Robert Dancik
Polymer Clay Workshop with Tory Hughes
Last summer I took a wonderful workshop with Tory Hughes at her studio in Santa Fe. She has an incredible collection of amulet-like objects which serve as inspiration for some of her work. She is one of first artists to use polymer clay to replicate bone, ivory, amber etc. Her work is quite beautiful and her classes are lots of fun. If you will be in the Santa Fe area this summer, check out her website for classes etc.:
www.toryhughes.com
The Dean's Alaska Adventure
Ed has posted a album of photos we took while we were visiting Alaska and Vancouver. You can view it at: www.eddddean.zenfolio.com (That's 4 d's!)