My most recent artist book, "The Edge" has been selected for inclusion in the show "Between Word and Image" at the University of Arizona Poetry Center, 1508 East Helen Street.  The show opened June 1 and will continue until August.  If you are free tonight, June 4, do come to the reception.
When "edges" was selected as this year's theme for our PaperWorks mixed media study group,  I started exploring many different meanings and graphic approaches to edges – alone, with the group and with others.  I decided to feature a favorite quote by Patrick Overton for my submission to this show.
For me the quote conjures up a vastness which I represented with a layered landscape.  Pastels added atmosphere and I took advantage of  the pages to contribute depth. I chose Stonehenge paper which I toned with pastels to create the landscape backgrounds.
Next I broke the quote down into five parts and wrote them on the upper edges of the folios.  Next I cut along the edges of  the individual letters.  I like the way the Neuland calligraphy cast shadows on the layers of background.
I wanted the work to have an element of surprise – something I've been doing in recent pieces.  Placing wings on the cover did the trick.  Whichever way you start viewing the book, the other side provides an unexpected visual.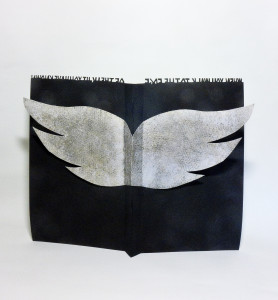 My photography skills do not do the book justice.  It is 14" tall.  When the individual pages are set up nesting inside of each other to enable the shadows to be cast, it is about 16" wide.  I hope you will be able to experience it while it is on display at Poetry Center.  The show will be open through August 12 this year.