In June of 2013, a friend gave me a beautiful piece of mica and a promise to share what she had learned about using mica in a workshop given by noted artist, Daniel Essig.  We met several times to go over her notes and to experiment with materials and book structures.
In the end, I decided that I did not want to do a book like the one she had made in Daniel's class, but rather a "Mabel Dean" book – whatever that turned out to be.  I thought about "collections" of things which is what his book-style suggested with many unique papers, pages and windows.
Several years before my husband and I had gone to Morocco and I had taken some photos of people and places.  I decided that I would gather my favorite photos from that trip for this book.  The concept of using them as an Essig-style "collection" seemed intriguing.
I selected and printed test color photos on plain computer paper.  I liked the feel of the photo on the ordinary paper.  Some how regular photo paper did not suit my Moroccan pictures.  I experimented with finishes on photos printed on various papers and observed how shellac (yellow and white) and Dorland's wax gave the photos a unique aged feeling especially when the pictures were printed on regular copy paper.
I thought about how  a book of colored photographs, page after page, could become boring.  I looked through my files to see what I might use for contrast and found that I had a number of "grab" shots of people that could work in the book.  Moroccan people do not like to be photographed, and I still feel a bit guilty that I snapped them when they had not agreed.  But I decided to use them in this particular book because it would not be for sale and it will have limited circulation. I believe that my treatment of their photos by printing them in black and white on transparencies, is a way of honoring them and their culture.
Once I had prepared the photographs – printing, treatments, and mounting on individual pages, I began to explore the kind of book structure to use.  After thought and experimentation, I determined that a stiff leaf binding would be the best format.
I found decorative brass metal in my stash, and velvet pink sand from the Sahara desert which I had brought home with me. All of these materials were used to create the covers. Somehow they seemed right for the project.  I painted Velin Arches papers so they had a sand-like feel and created a window for the sand.  Mica – possibly from the Atlas Mountains – served as the window pane.  A scrap of the brass was included along with a cerulean sky to create a Sahara landscape on the inside back cover.
My book was nearing completion.  Next I faced the challenge of engineering the book so that it would come together in a cohesive fashion.  Integrating all the components of the covers with the structure and maintaining a Moroccan flavor was my goal. I wanted a cover that would reinforce that this was a book about Morocco.  I determined that wood would be the appropriate cover material as the covers are like doors into the book.  I had some wood veneer that turned out to be just right once it was stained.  Adding a brass form to the front cover further suggested the door theme.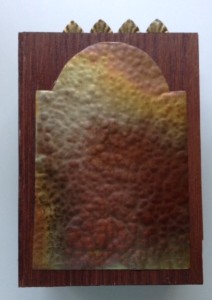 The book is now complete and my memorial to Morocco is in a form that will continue to bring back fond memory of that beautiful country.  I feel the end result is definitely a "Mabel Dean" book.  As I hold it in my hands I can see the Daniel Essig influences, subtle and sensory.