Recently I spent three stimulating days in a workshop sponsored by the Contemporary Artists of Southern Arizona ( www.casaaz.org ).  The workshop was taught by Victoria Pittman, an artist who splits her time between Gold Hill, Arizona and St. George, Maine! She is a world class calligrapher, accomplished artist and fine photographer.  ( www.victoriapittman.blogspot.com )
This class was entitled "Tortured Metal and Twisted Letters".  Victoria is very experimental and often includes shiny metal effects in her work.  She has created an array of techniques that employ the use of acrylic paint, gesso, water soluble writing pens, metal leaf, metal foil, thin sheet brass and copper.
For three days we practiced using her techniques; applying the paint and metal to sturdy Stonehenge paper and altering the surfaces with texturing tools, heat, ammonia, vinegar and acrylic mediums.  She also had us experiment with metal, plant materials and ammonia to stain silk shibori style.  After "cooking" overnight,  we applied the silk with encaustic to boards.  We at the end of the class we used our papers, silk, and bits of metal to build beautiful small collage treasures.
I had great fun playing with these materials.  Here are snapshots of some of my experiments.
We used a small bundle of broom bristles to make marks with very black paint.  I embellished mine with grey threads, spots of real gold and a painted piece of dried cholla cactus.
Another mark was embellished with aluminum leaf that had been adhered to wire and sewn on to the paper.  A piece of red cord wound up provided an accent.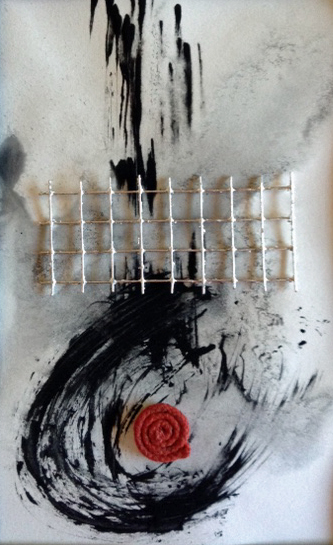 One of my favorite effects was made by squirting gesso on to the paper and left to dry.  This piece was painted with leafing size and then the leaf was applied.
A quick and simple way to create a wonderful effect is to draw around the gesso marks with a water-soluable pen and then wet the paper and watch the ink run.
Very interesting effects were obtained by pouring ammonia on faux gold leaf and letting it "cook" to color the metal.  After the paper had dried, simple washes of acrylic added interest.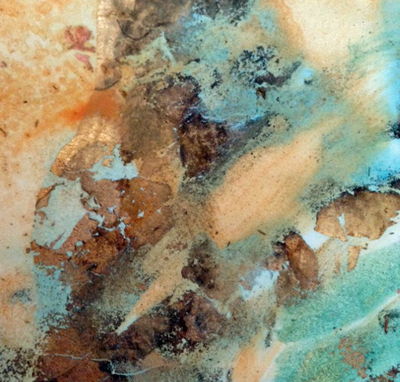 I enjoyed layering colored tissues, paint and metal leaf.  Accented with hot foil touches made for very interesting papers.
Our final experiment involved staining silk and then applying encaustic.  I used copper and brass metal pieces treated with ammonia to create the focal point on top of the encaustic.
That's all for now.  Have a great day.